About the TIPS
Responsible Alcohol Program
---
Leading The Way in Responsible Alcohol Service Training For Over 40 Years...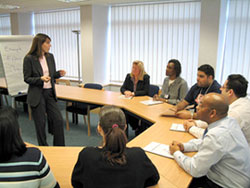 TIPS (Training for Intervention ProcedureS) is a dynamic, skills-based training program designed to prevent intoxication, drunk driving and underage drinking by enhancing the fundamental "people skills" of servers, sellers and consumers of alcohol.
TIPS gives individuals the knowledge and confidence they need to recognize potential alcohol-related problems and intervene to prevent alcohol-related tragedies.
Our Mission:
To educate and train all facets of society in the responsible sale,
service and consumption of alcohol
TIPS sessions can be administered through a certified TIPS Trainer or through eTIPS, an online training program. This website offers the online version online.
Training conducted by a trainer is implemented through video and printed materials to facilitate discussion of the course content. Course material is presented in three sections: Information, Skills Training and Practice/Rehearsal.
Training conducted through eTIPS is implemented through a computer and served over the web. eTIPS Training is self-paced and can be administered at anytime.
At the end of either type session, participants complete a multiple-choice exam. Participants who pass the exam receive a certification card, valid for three years in most areas. Exams, grades and other relevant information are maintained online for review.
Visit the State Pages on the left to read more or purchase your course!!
How Do I Get
TIPS Certified?
Anyone who serves alcohol in a licensed establishment should take this training and receive their certification. TIPS certification is required my many bars and insurance companies.
Enroll in our class by clicking on the "Register for TIPS Online" button above.
Complete the TIPS alcohol certification course online at your own pace.
Pass the certification exam.
Print your TIPS certification card as proof of your online certification.
Receive your permanent certification by US mail in 5 to 7 business days.
eTIPS certification is valid for 3 years.