Massachusetts TIPS
Certification Online
---
Massachusetts TIPS certification online in 2-3 hours for only $40!
Responsible alcohol training is not mandated by the state of Massachusetts. However, many local cities and municipalities have made responsible beverage server training mandatory. In addition, many Massachusetts Insurance companies have made certification mandatory for the bars to purchase liquor liability insurance.
TIPS (T.I.P.S. - Training and Intervention Procedures for Servers of alcohol) Certification - If you've been told you must have your TIPS card to be hired at a liquor serving establishment, this is the training and card required.
TIPS On-Premise, Off-Premise and TIPS Concessions online courses are all accepted statewide in Massachusetts with the exception of Ashland, Chicopee, Worcester and Natick. Sign up below or visit the course of your choice using the "TIPS Online Courses" menu to the upper left for detailed information.
If you are looking to train your staff, please visit our Group Training page!
Who Should
Be tips Certified?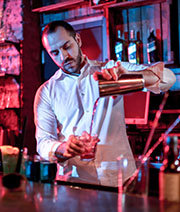 Anyone who serves alcohol in a Massachusetts licensed establishment should take this training and receive their certification. TIPS certification is required my many bars and insurance companies.
Bartenders
Bar Backs
Servers
Managers
ID Checkers
Grocery, liquor, and convenience store clerks and managers
---
Your tips certification
Fee Includes:
Access to TIPS online alcohol beverage server certification course and exam
You have 30 days to complete the course
Log in and log out as needed. Take the course in one sitting or a little at a time from any computer
Unlimited toll free phone support 8:00am am to 5:00pm CST Mon - Fri
Printable, TIPS certification immediately upon graduating
Permanent TIPS certification card by US mail in 7 to 14 days
Mobile friendly course. Take it on your phone, tablet or computer
TIPS is the most recognized alcohol certification program in the US
TIPS is taught at many major bartending schools, like PBSA
---
Massachusetts
Alcohol Laws
Alcohol service laws are governed by: Massachusetts Alcoholic Beverages Control Commission
This information has been provided to us by the regulating agency and is believed to be correct. However, laws and regulations may change at any time, and the information provided should not be relied upon in place of official documents. For more information or clarification, consult the regulatory body for this jurisdiction directly.
| | |
| --- | --- |
| Age to Consume | 21 |
| Age to Pour | 18 |
| Age to Sell | 18 |
| Age to Serve | 18 |
| DUI/DWI Limit | .08 |
Acceptable Forms of ID -
Massachusetts
Valid Massachusetts Driver's License
Valid Military ID
Valid Passport or US Passport Card
Valid Massachusetts Registry of Motor Vehicles Liquor ID Card
---
Hospitality is currently the third largest industry in Massachusetts and employs over one million people. The industry states it currently has an 8% labor shortage. What this means to you is that there are ample jobs available if you're considering joining our industry. No prior training or experience is required at many establishments.
While responsible alcohol service training is not required by state law in Massachusetts, many cities and municipalities have made the training mandatory. To maximize your chances of getting hired in our industry we recommend getting your Massachusetts TIPS certification prior to applying for that job.

TIPS Certification for all servers of alcohol in Massachusetts..
Get TIPS Certified Now!